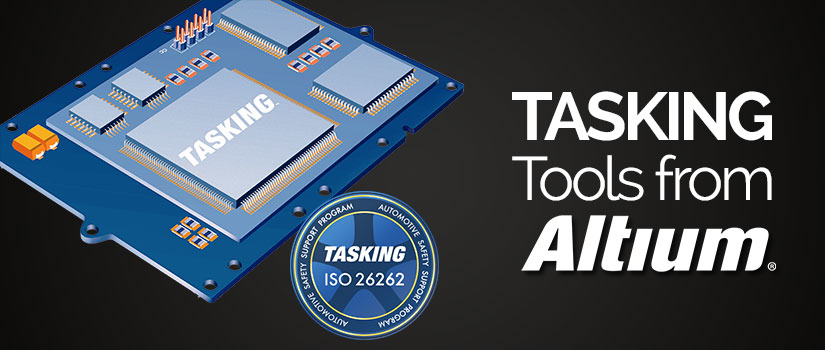 TASKING
TASKING products are world-leading tools for embedded software development, bringing together the advanced software design technology needed to compete in the embedded applications era.
The TASKING product toolsets combine our award-winning integrated development environment with compilers, debuggers, embedded internet and RTOS offerings to support a wide range of DSPs and 8, 16 and 32-bit microprocessors and microcontrollers for all areas of embedded development. With over 100,000 licensed users of TASKING products, including the world's leading telecom, datacom, automotive and computer peripheral manufacturers, the range of TASKING products has a long history of technological leadership and innovation.
Altium's range of TASKING software development toolsets includes development tools for multiple devices from 8-bit till multicore processors.
ARM (Cortex-M0/1/3/4/7).
TriCore/AURIX.
C166/XC16x/XE16x/XC2xxx en ST10 family.
Qorivva.
GTM-IP MCS.
RH850 Family.
SPC5
Power Architecture family (NXP MPC56xx, STMicroelectronics SPC56x).
DSP56xxx family (NXP DSP5600x, DSP563xx and DSP566xx families).
68K/CPU32/ColdFire family.
8051 Family.
LC87 family.
M16C & R8C/Tiny family.
196/296 family.
XA family.
Safety Kit ISO 26262.
Safety Checker.
Each toolset incorporates a number of core technologies designed to help you produce highly optimized code, save valuable time, and get your product to market faster. These core technologies include:
Comprehensive Embedded Development Environment.
Target-specific, highly-optimized compilers.
Embedded C++ compiler support.
MISRA C code checking.
New generation linker/locator.
Powerful and easy-to-use debug tools.
For more information we like you to forward to the Altium TASKING website.