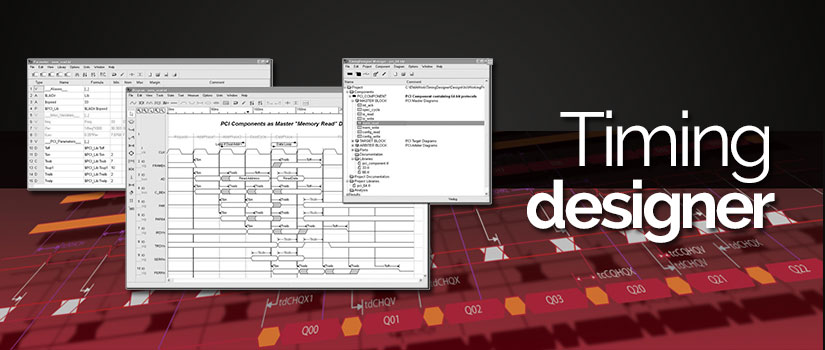 Timing Designer
The timing's right
Combining our experience and technology expertise with ongoing efforts to understand the latest in device technology and design methodologies, we provide our customers with timing analysis excellence to address the most complex of timing challenges for high speed design.
TimingDesigner® is a flexible, interactive static timing analysis and diagram tool. Its intuitive use of timing diagrams and patented spreadsheet technology allow users to model their unique timing challenges, analyze a range of conditions, obtain accurate results and manage timing margins throughout the design process.
TimingDesigner is being used by leading electronics companies around the world to define timing constraints, evaluate timing parameters, create specifications, and analyze complex interfaces within their design. It also simplifies the exchange of critical timing information among project teams enabling users to better manage specification and analysis of high performance interfaces for their digital IC and board designs. It's a productivity tool designers have come to depend on.
For more informtion see the TimingDesigner website
"Quote:
Altera works closely with the EMA development team to enable a tight, seamless interface between our Quartus II software and TimingDesigner. As a result of this effort, customers can leverage the graphical timing analysis features of TimingDesigner to rapidly develop their SDC timing constraints for Altera devices."
- Chris Balough, Intel/Altera Corporation
Senior Director of Software