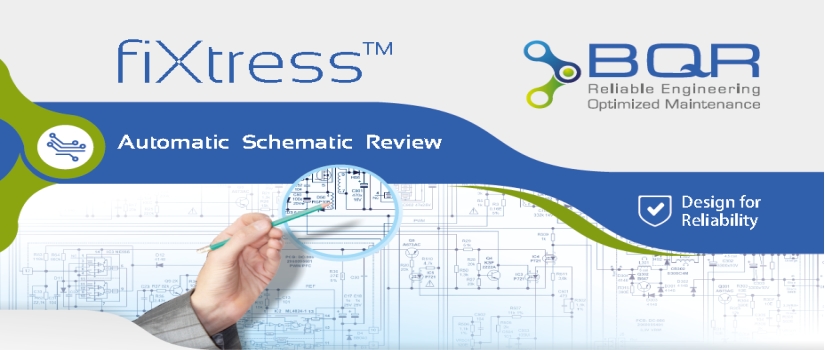 fiXtress
BQR's fiXtress proprietary design analysis technology automates the verification and design process at the schematic design stage, helping electronic engineers identify and eliminate potential errors early in the design cycle.
Short Time-to-Market (TTM)
With fiXtress virtual prototyping software tools, design problems are quickly identified and treated. This reduces the number of prototypes needed to verify a design, saving the hardware board development cycle at least one design round and speeding up time-to-market.
Design Cost Reduction
fiXtress provides aggressive cost-reduction in PCB design. In addition to shortening the design cycle by at least one design round, fiXtress improves the data standardization, ultimately enhancing the design process.
Enhanced Reliability & Performance
Providing advanced PCB analysis of electronic schematic designs, fiXtress reports critical and functional errors, as well as warnings on power and temperature violations, and issues re-design recommendations. Engineers can easily upgrade the PCB's service life, freeing valuable time to improve design performance and features. Additionally, fiXtress uses unique intellectual property (IP) technologies such as Netlist Propagation Matrix™ and Component Library Modeling™.
The fiXtress suite is comprised of three software tools:
fiXtress Schematic Review – fiXtress Schematic Review enables the designer to find and screen out a wide selection of design issues that are virtually impossible to detect with existing tools. Traditionally, most of the process is performed manually, and the fiXtress schematic Review automates the process, shortening review process and improving its results.
fiXtress Rapid – fiXtress Rapid enables the design engineer to perform a quick automated DC stress analysis on the schematic design, during the development phase. In this quick process, the designer can identify over-stressed components and Net naming conflicts in the design. fiXtress Rapid does not require a complete design for operation and can be applied to partial designs and designs that are handled by more than one design engineer.
In addition, fiXtress Rapid facilitates the implementation of Net naming standards that enable future changes and redesigns with relative ease.
fiXtress Precise – fiXtress Precise is an electrical design simulator that calculates the real electrical stress on the components in the schematic. fiXtress Precise is used in the schematic validation stage and is used by validation/NPI teams. fiXtress Precise stress analysis calculates the real stress of the components and recommends component optimization. In addition, fiXtress Precise provides a unique schematic checker that finds hidden design errors and connectivity issues that influence components stress and other rules that can be customized according to the needs of each design.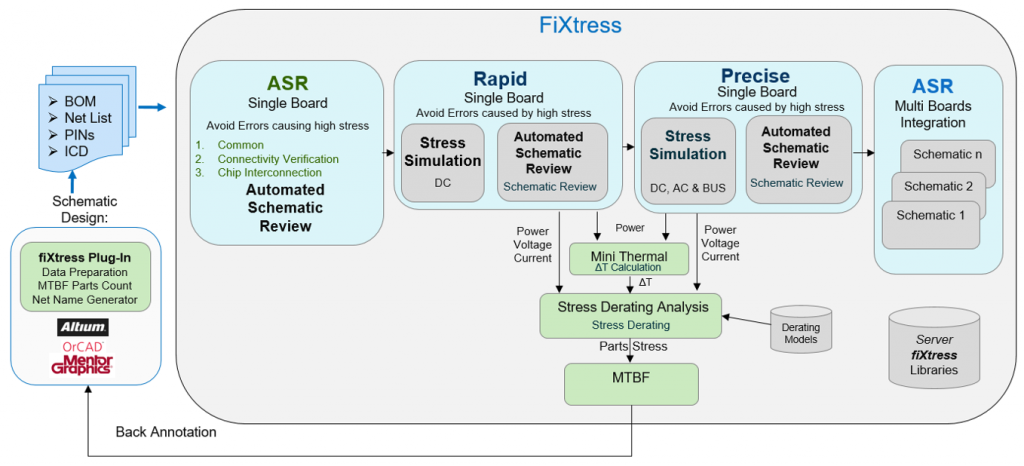 Why do you need electrical stress analysis?
Electrical Overstress (EOS) is one of the top failure factors in electronics.
With fiXtress design and validation, engineers can identify overstressed components, while gaining an understanding of the root cause of the problems, such as design or rating errors.
Early detection of EOS problems dramatically reduces design time, design rounds, field failure and component failure in PCB prototype testing.
Professional MTBF prediction is based on electrical stress analysis, rather than on stress defaults. Electrical Stress Analysis is essential for durable and reliable products that consumers can rely on.
Voor meer informatie willen we u graag doorverwijzen naar de BQR website.