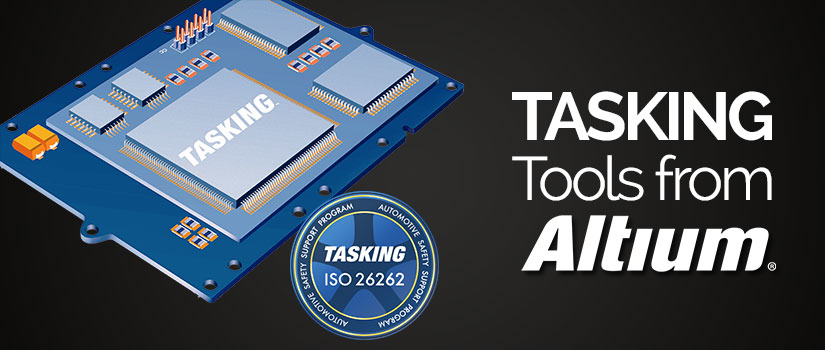 TASKING
Altium TASKING Embedded Software Development oplossing levert de beste omgeving voor het gehele software ontwikkeltraject. Elke TASKING compiler is ontwikkeld voor een specifieke architectuur en levert de unieke benodigdheden die in uw bedrijfstak noodzakelijk zijn voor bijvoorbeeld de Automtive, High-Tech, Telecom en Datacom industrie.
De volledig geintegreerde ontwikkelomgeving geeft u de beste mogelijkheden om foutloos en efficient uw code te ontwikkelen.
Comprehensive Embedded Development Environment
Target-specific, highly-optimized compilers
Embedded C++ compiler support
MISRA C code checking
New generation linker/locator
Powerful and easy-to-use debug tools
De oplossing bestaat uit compilers, debuggers, embedded internet en RTOS support voor onderstaande microprocessoren en microcontrollers.
ARM (Cortex-M0/1/3/4/7).
TriCore/AURIX.
C166/XC16x/XE16x/XC2xxx en ST10 family.
Qorivva.
GTM-IP MCS.
RH850 Family.
SPC5
Power Architecture family (NXP MPC56xx, STMicroelectronics SPC56x).
DSP56xxx family (NXP DSP5600x, DSP563xx and DSP566xx families).
68K/CPU32/ColdFire family.
8051 Family.
LC87 family.
M16C & R8C/Tiny family.
196/296 family.
XA family.
Safety Kit ISO 26262.
Safety Checker.
Kijk voor meer informatie op de Altium TASKING website.